40+ Cocktails with Exotic Origins You Need to Try this Summer
In the spirit of a hot, hot summer we bring you over 40 cocktails from around the world. From the popular to the suave to the downright weird and wonderful, these are the colourful drinks that will turn your taste buds upside down this festive season. Enjoy responsibly and remember this good advice for cocktail parties: If you can't say something nice about someone, just hold your drink and listen to others who can't either.
The Cucumber Collins
Origin: Scott Beattie, the Living Room, Florida.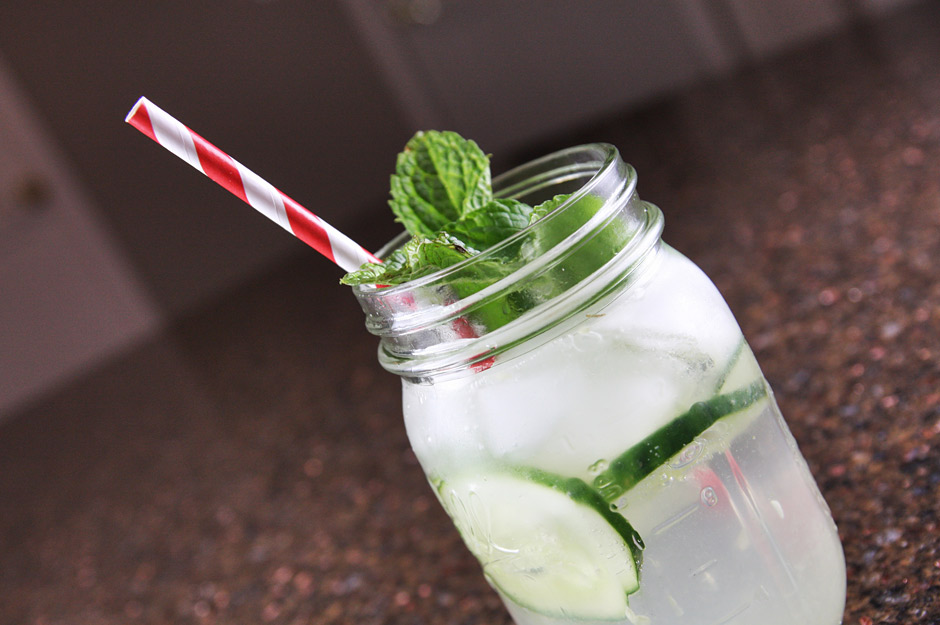 Is this a meal, a cocktail or a work of art? It's hard to tell! This is probably the best looking cocktail you will see this year, and plenty of preparation goes into getting it perfect. The drink is based on Square One cucumber vodka, to which yuzu juice, fresh lemon and blueberry-stained cucumbers (which have been pickled in mirin, sake and rice wine vinegar!) are added. It looks too good to drink, and tastes better than it looks. Just the thing you need to cope with the Florida heat.
Caipirinha with Candy Floss
Origin: OnlyOne, Dresden, Germany.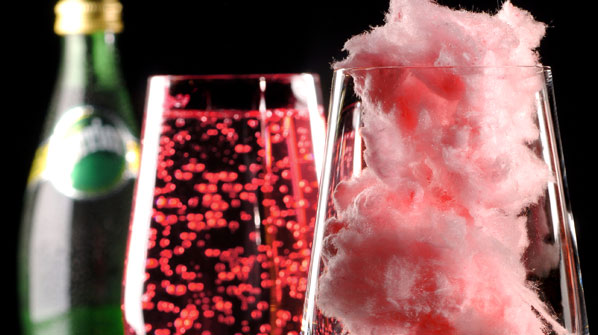 The genius mixer at OnlyOne in Dresden has come up with a wonderfully exciting take on the traditional Brazilian Caipirinha, which you eat rather than sip. The cocktail is solidified, probably by freezing with liquid nitrogen, and then served decorated with candy floss. Your favourite cocktail presented as a dessert…who can resist?
The Bull Shooter
Origin: OnlyOne, Dresden, Germany.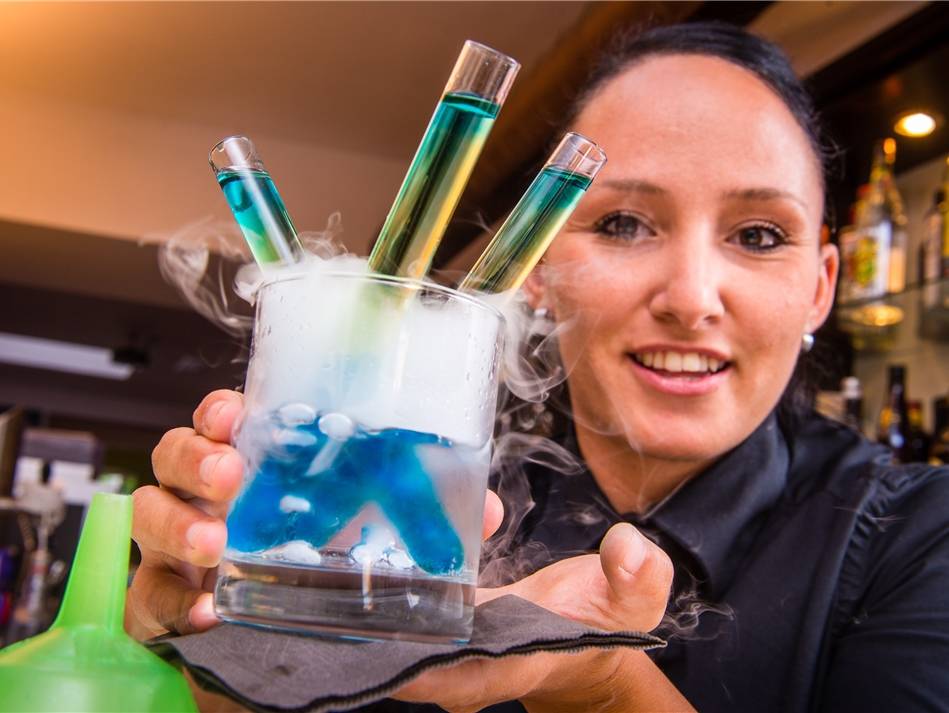 Molecular mixology is definitely on trend right now and is popping up all over, including in Dresden, Germany where you will find the Bull Shooter cocktail. It is definitely unusual, and a bit of a DIY cocktail, or perhaps deconstructed is the correct word? What you get is a glass containing three test tubes filled with pearls of Blue Caracao Absolut Vodka and Red Bull. How you drink it is up to you…sprinkle the pearls on your tongue and wait for a surprise!
Agua Fresca
Origin: Broken Shaker, Miami.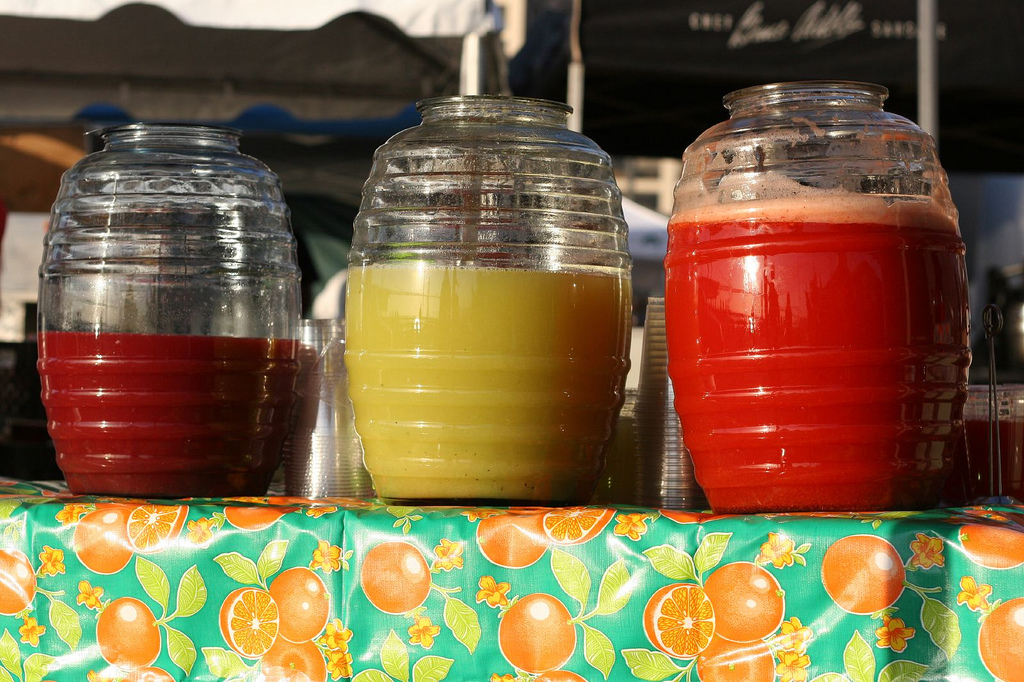 This great summer cocktail is the brain-child of Israeli-born Elad Zvi, who together with his partner Gabriel Orta have been shaking up the cocktail scene in their Miami bar, the Broken Shaker. Elads' cocktails, which often incorporate Florida's famous citrus products, are becoming legendary, and the Agua Fresca is a refreshing blend of grapefruit juice, honey and Tequila which is guaranteed to chase away the winter blues and have you dreaming of summer and the beach…which leads us to the next one…
Sex on the Beach
Origin: Confetti's Bar, Florida.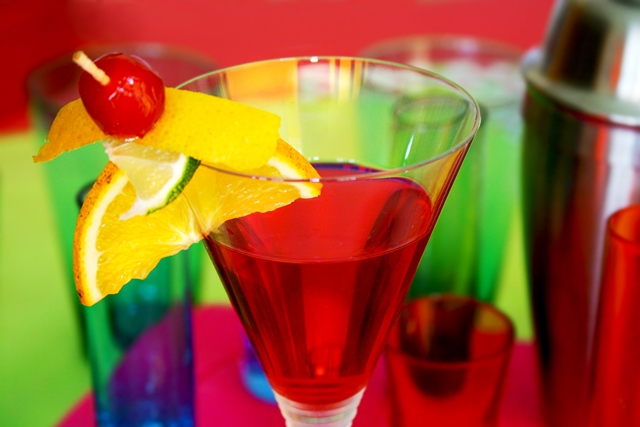 Florida, summer, beach….it must be time for a Sex on the Beach, one of Florida's most famous cocktails of all time. The story goes that back in 1987 a USA distributor of peach schnapps (a new kid on the block, back then) offered a bonus of $1000 to the bar that could sell the most schnapps. A young barman decided to try mixing it with vodka, orange juice and grenadine, and the blend was an immediate hit. When he was asked what it was called, Sex on the Beach popped into his mind, influenced by all the students that were enjoying their spring break. A legend was born! Tip – don't try ordering this one in Dubai!
Sidecar
Origin: The Ritz, Paris, or Buck's Club, London.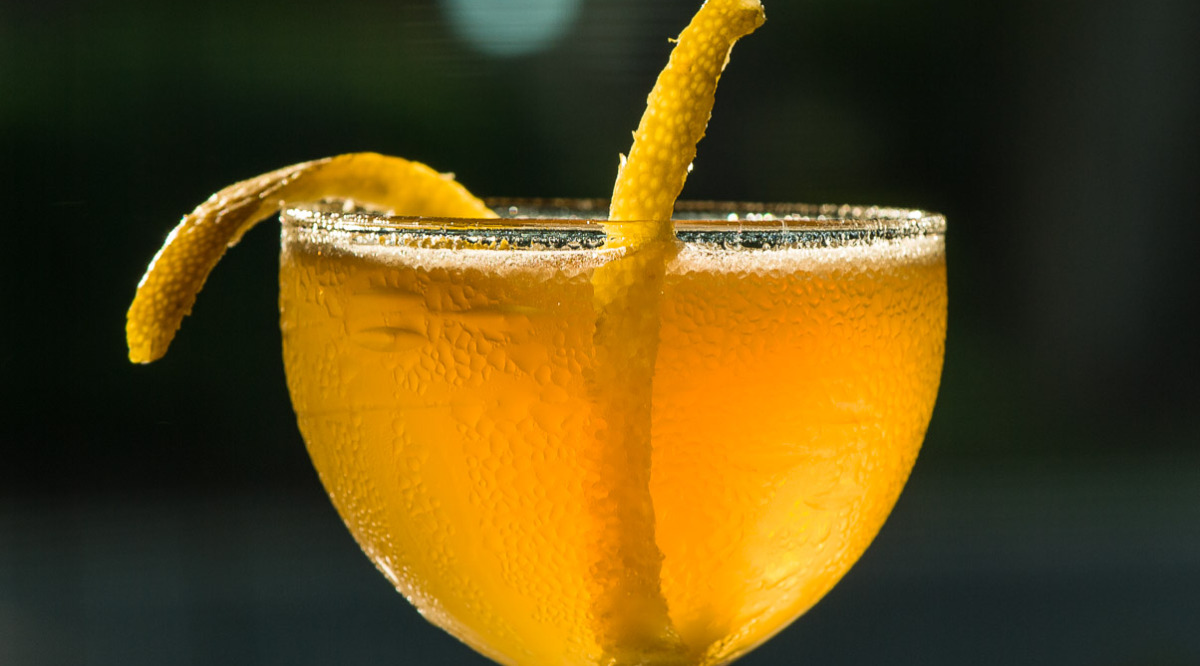 This is a great classic cocktail that has controversial origins. The Ritz Hotel in Paris has claimed that it was invented by one of their regular customers, just after World War I, a certain American Army captain who was rather fond of visiting The Ritz for a night cap of Cognac, Cointreau and lemon juice. The drink came to be known as a Sidecar, since the officer always arrived at the Ritz in a sidecar. However, London claims the drink was made (or perhaps introduced?) by Pat MacGarry at Buck's Club. It's a nice story and adds a touch of intrigue to a really good cocktail.
Cocoa's Revenge
Origin: Fairmount Pacific Rim Hotel, Vancouver Canada.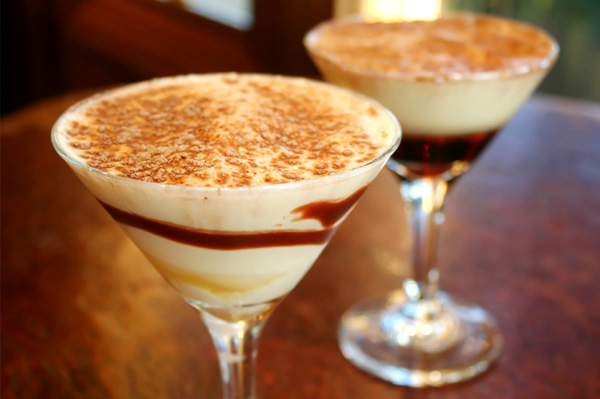 This is a great cocktail to choose if you are torn between a night cap and a dessert! As the name implies, there is chocolate involved, and the best thing about this one is that it can be served hot (Apres Ski, perhaps?) or chilled. It is a yummy but quite alcoholic blend of equal parts of Ron Zacapa Rum and Kettle One Vodka, white chocolate cream and a pinch of nutmeg.
Dry Martini
Origin: Rather vague, but it could have been invented in San Francisco around 1860!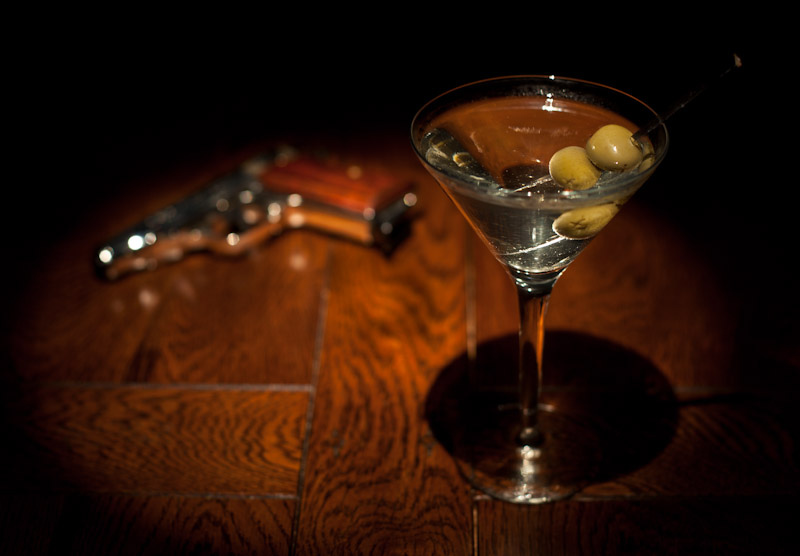 This is an absolute classic that has been popular for over 100 years! Pour 5 parts of good gin and 1 part dry vermouth (75ml and 15ml) into a mixing glass over ice blocks; stir, never shake (most important according to James Bond!) strain into a cocktail glass and garnish with a green olive and a twist of lemon peel and you have a most elegant and sophisticated cocktail that has been the favourite of Winston Churchill, Dean Martin, and of course 007 himself.
Manhattan
Origin: Why, Manhattan Island, of course! Probably at the Manhattan Club in New York, around 1880.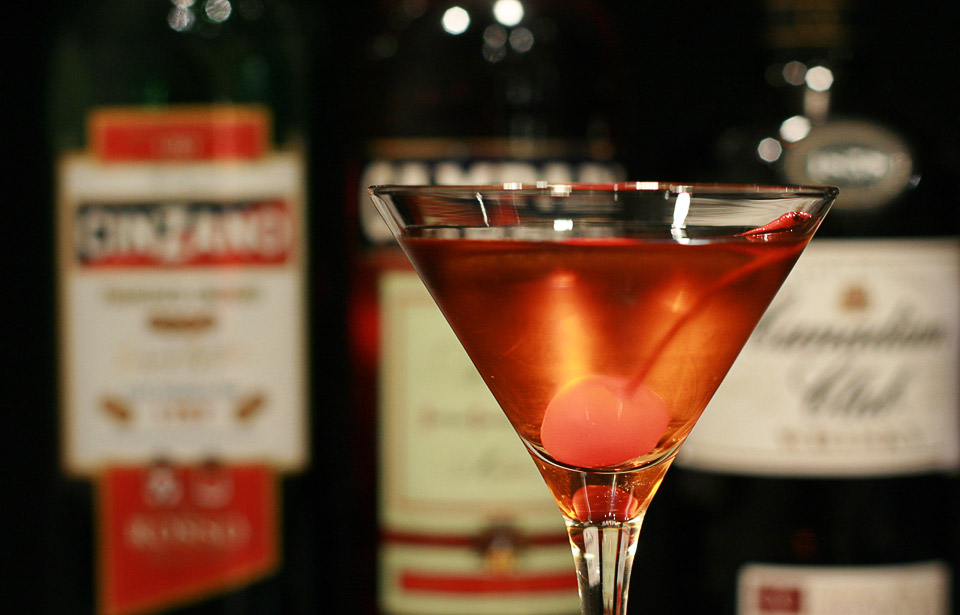 Another of the golden oldies, this classic American cocktail is made in almost the identical way as a Martini, but you use Bourbon and sweet vermouth (75ml bourbon, 25ml sweet vermouth and a few drops of bitters). Stir and pour into your cocktail glass and garnish with a lovely sweet maraschino cherry…bliss! There are many variations of the Manhattan, and some people prefer rye whisky to bourbon…you be the judge!
Fiery Empress
Origin: LE Restaurant, Suntec City Mall, Singapore.
In the mood for a Fiery Empress? You had better be sure you can handle it! The Singapore cocktail scene is on trend with using interesting and unusual ingredients to create memorable cocktails like this one, a potent blend of chilli (hot chilli!), curry leaves and Patron Silver tequila, meant to awaken the senses – try it and you will know why!
image: appetiteasia.com
The Pelicillin
Origin: Mixologist Dick Bradsel at the Pelican Bar, Fullerton Rd, Singapore.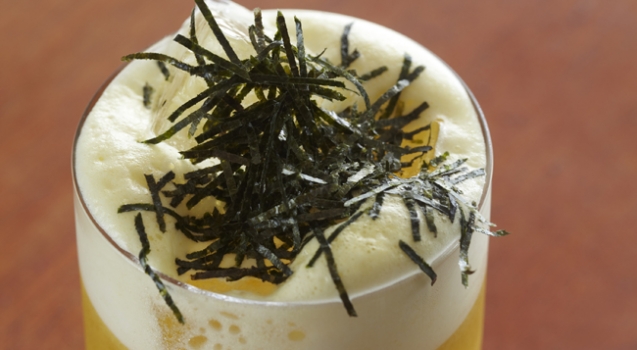 Not to be confused with a bog-standard Penicillin cocktail, (which was just another take on a whiskey sour anyway), the Pelican Bar have added several exotic elements to elevate this cocktail to new heights. Imagine a sweet Caribbean syrup, granadilla and nori (seaweed) alongside 10yr old Talisker whiskey; the resultant cocktail is deeply satisfying – slightly sweet, slightly salty with a distinct whiff of the sea to awaken your inner sailor.
Agro Dolce
Origin: Not known – obviously Italian, and served at the Tulio Restaurant in Seattle, who also do a great Prosecco and Melon Martini!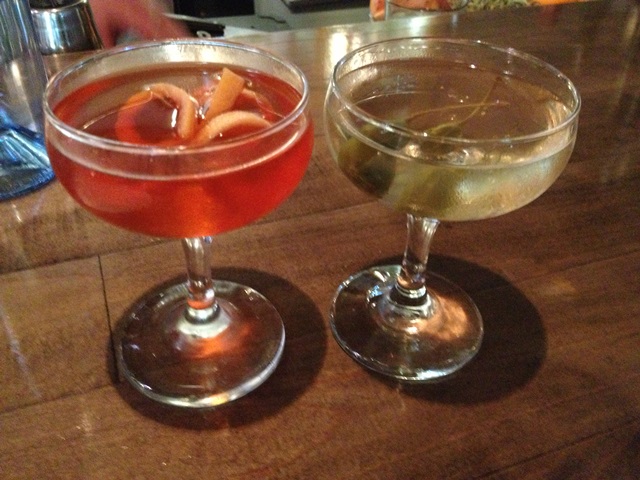 Agro Dolce is Italian for sweet and sour, a very typical combination widely used in Italian cuisine which has now been cleverly adapted for a great summer cocktail, featuring Absolut Citron vodka, orange-flavoured white balsamic syrup and lemon juice, all garnished with a cippollini onion. Of course it is a variation of other vodka based cocktails, but it is the vinegar that makes it stand out from the usual crowd, and the fact that the syrup has to be homemade, making this an artisanal cocktail.
Live and Let Die
Origin: Russell Davis at Bergerac in San Francisco.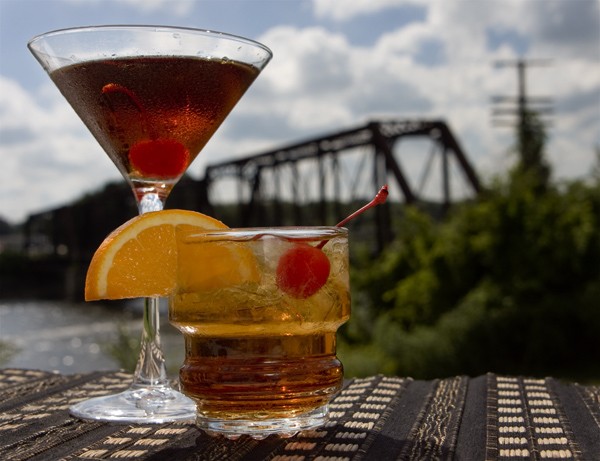 With a name like that you would think it had something to do with 007, but you would be mistaken. This cocktail has a blend of unusual ingredients meant to play tricks with your senses; it starts with coconut oil-washed Pisco, blended with sweet vermouth and topped with a Froot Loop scented froth that will take you straight back to your childhood, while a whiff of Campari will bring you back again; a great fun drink!
The Midnight Mary
Origin: The Aviary, Chicago. Don't try this one at home…it just won't be the same!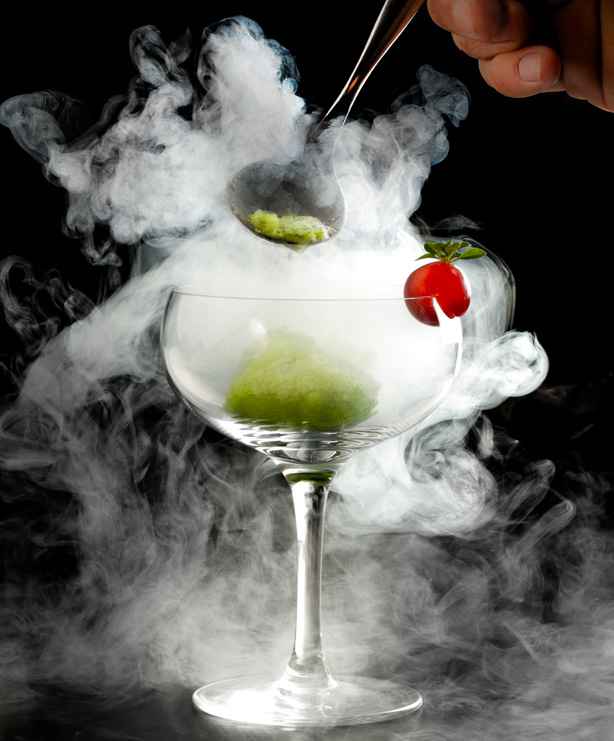 In this version of a Bloody Mary the brilliant mixologist presents a basil foam, frozen with liquid nitrogen which causes a dramatic cascade of smoke to pour from the glass as the cocktail is added. The boozy part is comprised of Aquavit and Benedictine blended with lime, galangal and tomato water; spooktacularly good and perfect for Halloween.
Nothing Like Chocolate
Origin: Fairmount Kea Lani, Maui.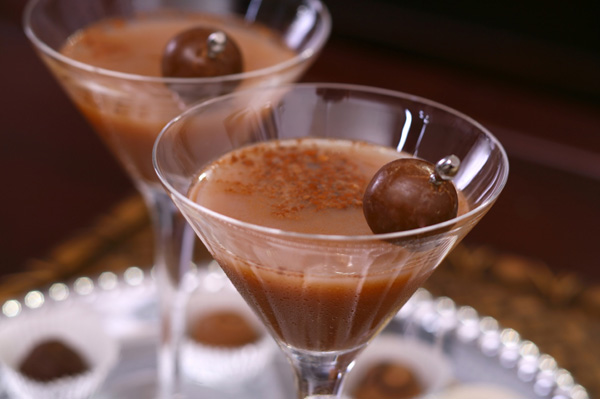 This one is absolutely the last word in chocolate indulgence! It was made in honour of the film by the same name, which was screened at the Maui Film Festival in 2012 and is a treat for the taste buds and the soul! It is made by combining the following totally decadent ingredients: 2 parts Stoli Vanilla Vodka, and 1 part each of Godiva Chocolate Liqueur and Kahlua, and topped with chocolate cream and dark chocolate shavings….remember, dark chocolate is good for the brain…
The Corpse Reviver #2
Origin: The drink was created by Harry Craddock, who ran the American Bar at the Savoy Hotel in London in the 1920s and '30s. Craddock also compiled the Savoy Cocktail Book, still found on backbars all over the world today.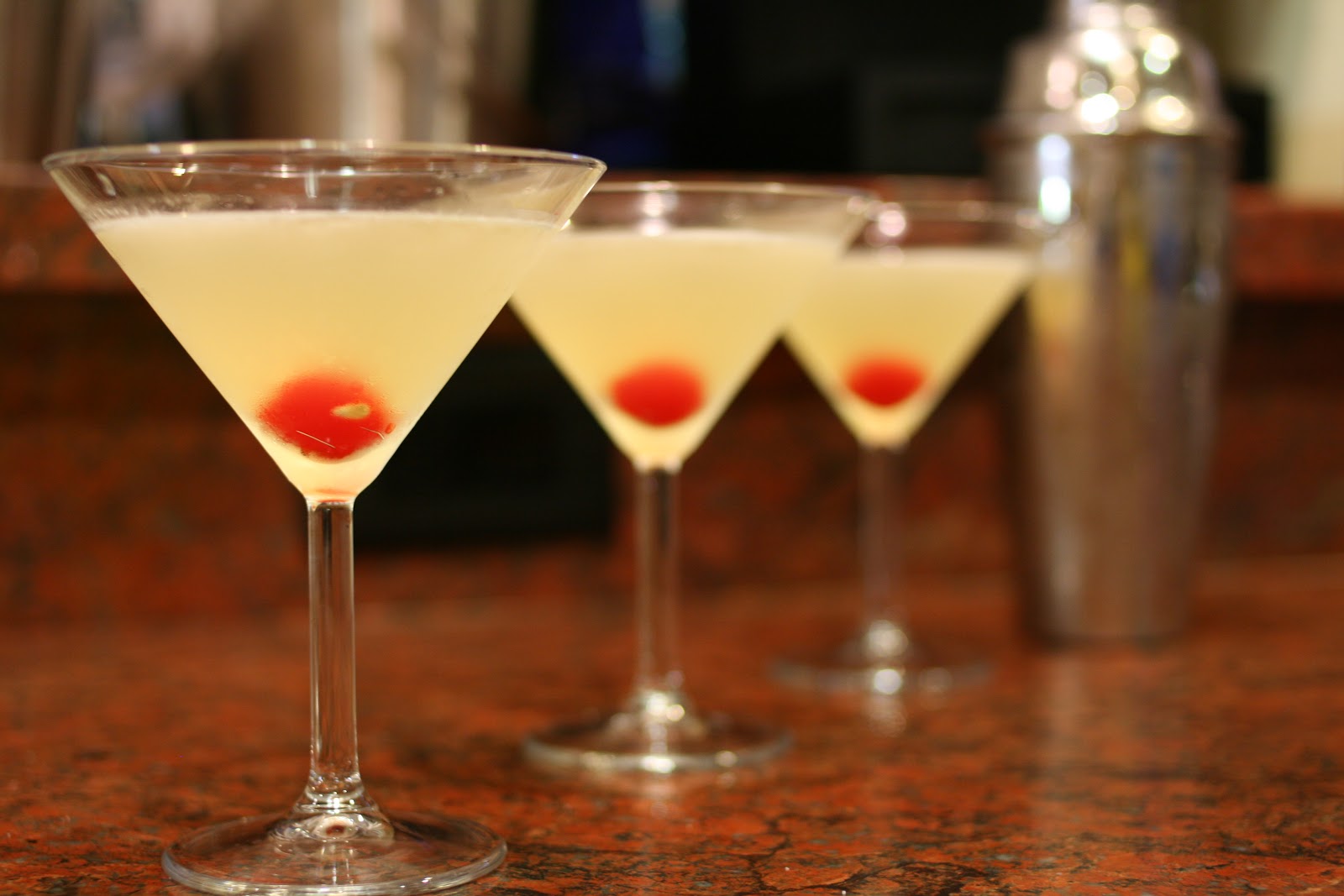 In a former life this cocktail was famous as a hang-over cure; it has a crisp and fragrant taste that is said to regenerate the drinker, hence the name. It's made with equal parts of Gin, Lillet Blanc, Cointreau and Lemon juice and enlivened (pardon the pun) with two drops of Absinthe. No one knows the exact history of the Corpse Reviver, but it appeared in the famous Savoy Cocktail book with the instruction: "To be taken before 11am or whenever steam and energy are needed".
Earl Grey Caviar Martini
Origin: Antonio Lai, Finds Bar,Wyndham St, Hong Kong.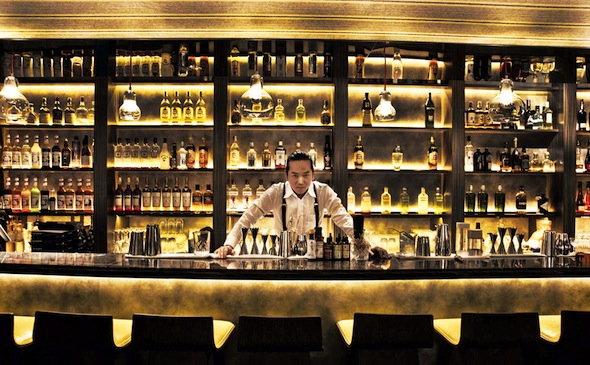 The original integrity of the Martini has been maintained and enhanced in this unusual and exotic version of an old favourite. Molecular magic is used to produce little balls of "caviar" made from Earl Grey infused martini, which float on the surface of the cocktail and burst on your tongue, just like real caviar. The drink is topped with more of the Earl Grey flavour in the frothy foam. They also do a three-layered chocolate Martini – both works of art.
Ron Zacapa Blazer
Origin: Eau de Vie Bars in Sydney and Melbourne.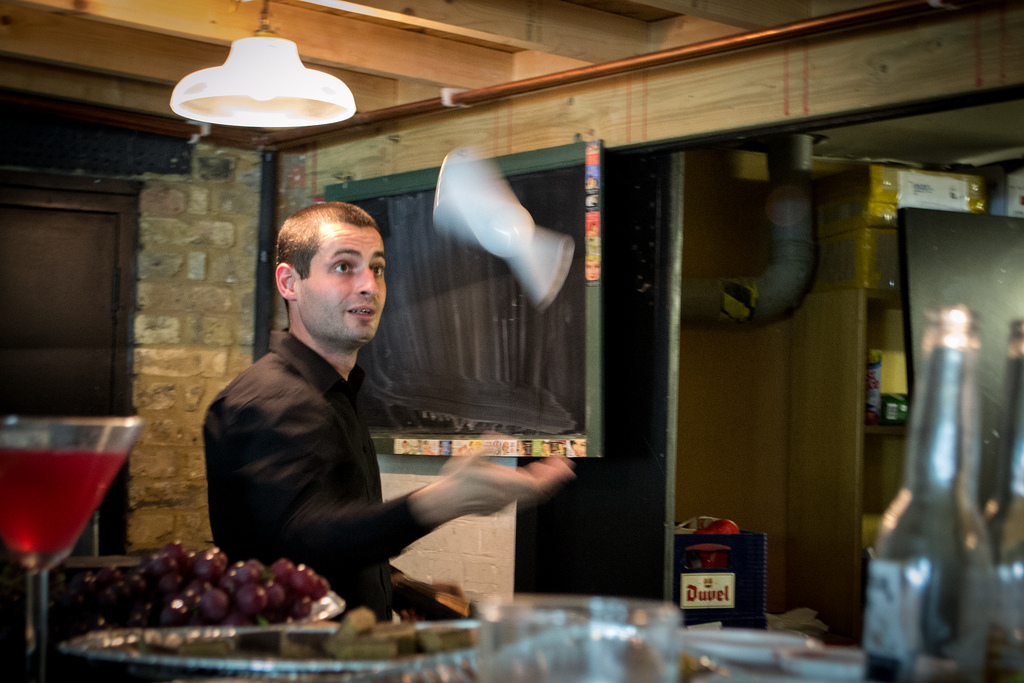 The Ron Zacapa Blazer is a unique blend of the world's best rum (Ron Zacapa, of course), flamed with Pedro Ximenez sherry and then poured back and forth between two silver chalices until it is cool enough to pour into your cocktail glass, over fabulously spicy orange peel and cinnamon. The mixing is pure theatre, but the resultant cocktail is a real fire-brand, the perfect antidote to a cold night, or a cold heart! You will have to travel Down Under to find this one!
Forever Young
Origin: Artesian Bar, The Langham, London.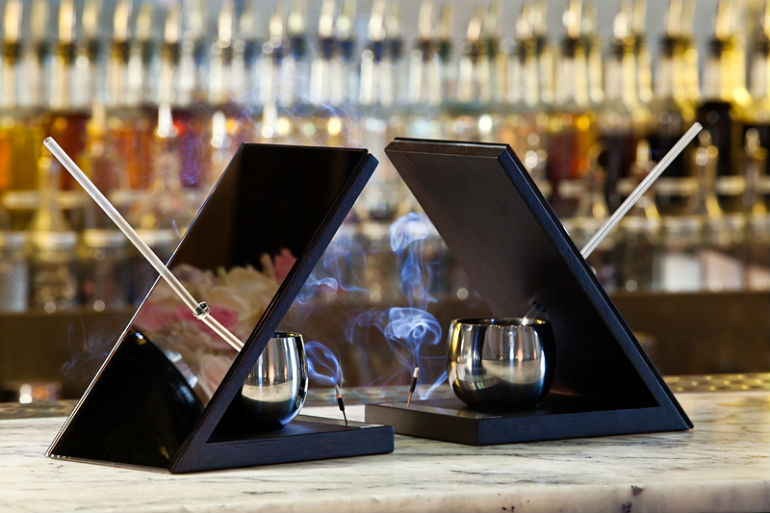 Could this be the elixir we have all been searching for? Unfortunately not, but it's an enticing name for this cocktail that was inspired by the novel The Picture of Dorian Grey, which will resonate with literary lovers. The drama in this most unusual cocktail is all in the presentation – the drink comes in a glass that is hidden behind a mirror, and scented with opium incense – all very sexy and evocative! Hidden inside is Grey Goose Vodka, Martini Extra Dry, eucalyptus, Maraschino and citrus.
Singapore Sling
Origins: The Long Bar, Raffles Hotel, Singapore.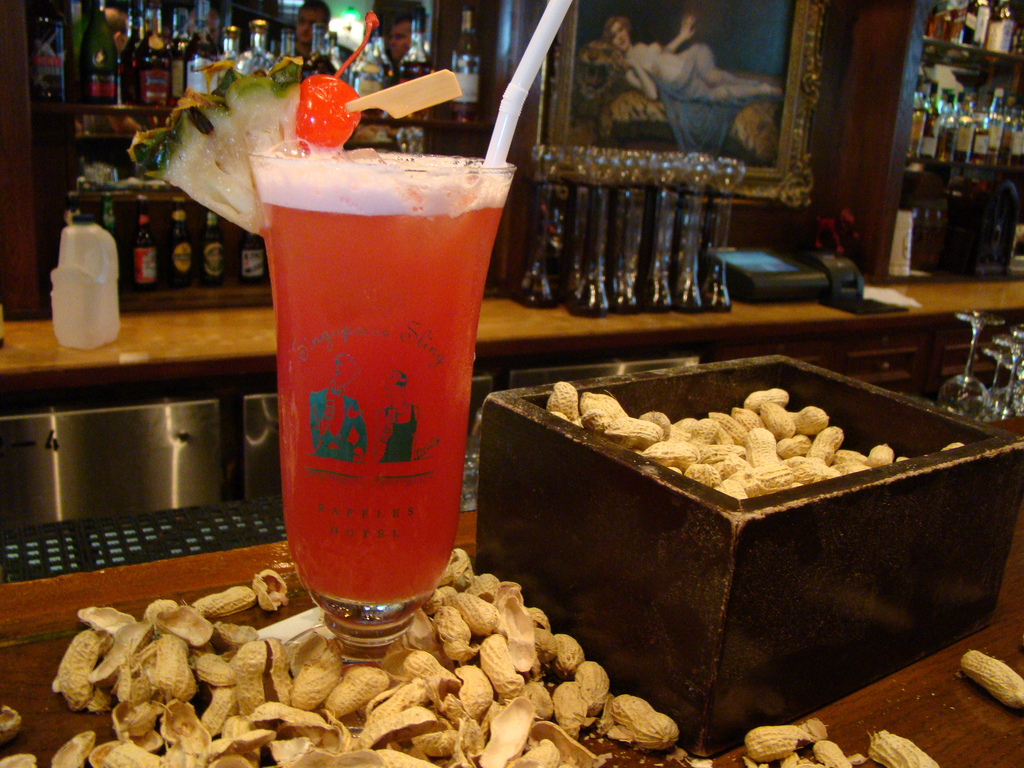 This delightful cocktail that has been quenching thirsts in Singapore for about a century also has origins that are wreathed in controversy. Apparently the original hand-written recipe is displayed in the Raffles Museum and we know that the drink was invented by Ngiam Tong Boon around 1900, initially as a ladies' drink. However, it soon became a firm favourite with both sexes. If you visit Singapore it is mandatory to make your way to Raffles to try the real thing! Expect a refreshing blend of gin, Benedictine and cherry brandy.
Dawa Cocktail
Origins: Kenya, Africa.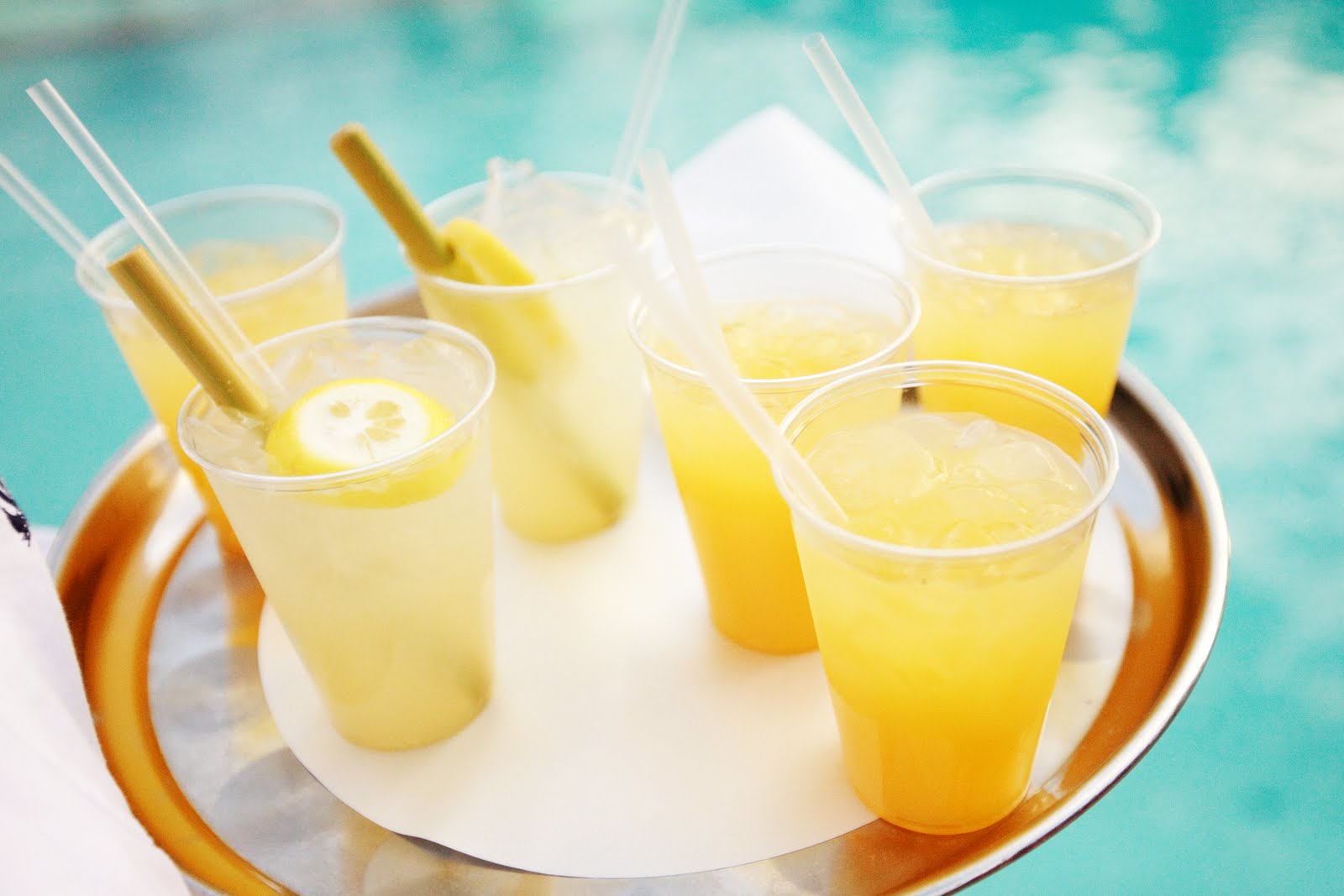 The Dawa cocktail will take your taste buds on a journey into deepest, darkest Africa, to the cosmopolitan city of Nairobi. In Swahili, 'dawa' is the word used for a magic spell or for medicine, and local Kenyans will tell you that this is the drink to cure all ills! This cocktail is made by pouring a generous portion of vodka onto ice cubes, sugar and lime. The dawa part is a wooden stick dipped in honey that is both decorative and functional – use it to swirl the honey through your cocktail and enjoy a taste of Africa.
Aviation Cocktail
Origin: Hugo Ensslin, Hotel Wallick, New York.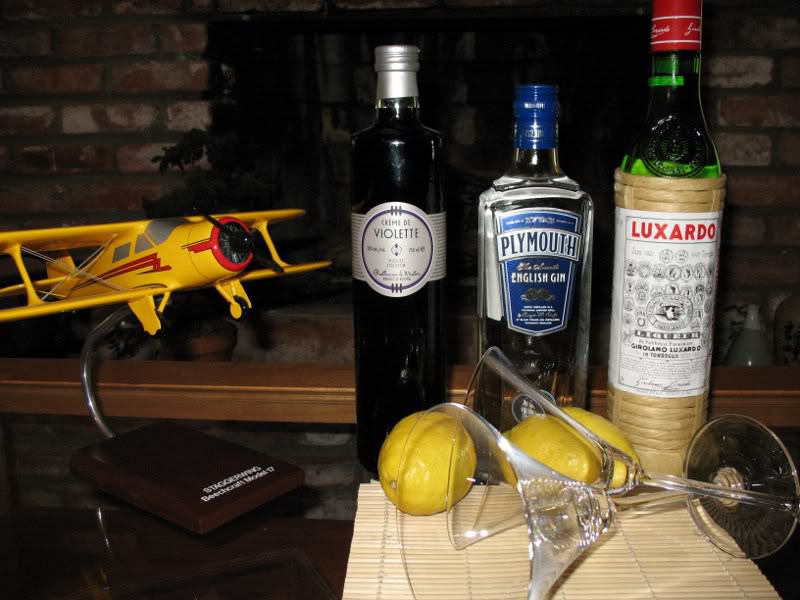 This is a classic cocktail with a very controversial history. It has become somewhat obscure due to bad luck and bad timing; the recipe was originally published in 1916, but when the famous Savoy Cocktail book appeared in 1930, the prime ingredient, Creme de Violette Liqueur was dropped because it was so difficult to obtain, resulting in a sour, uninspiring drink. Luckily for us, the unique Violet liqueur is now available and the Aviation lives on. Make it with good dry Gin, a dash of lemon juice, maraschino liqueur and Violet crème.
The Margarita
Origin: Tijuana, Mexico.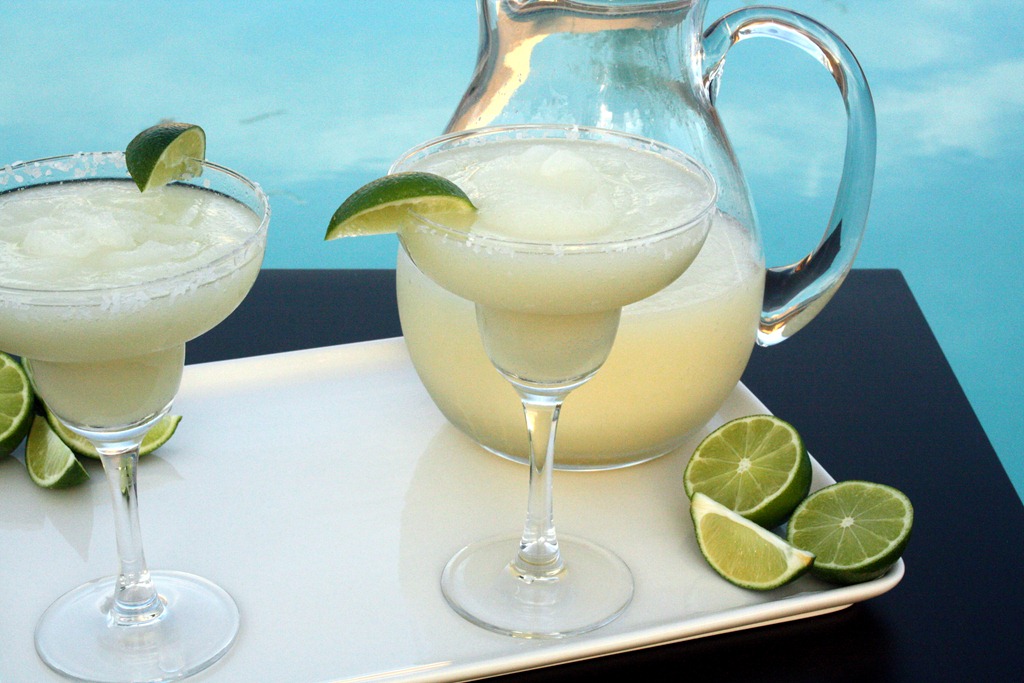 The classic Margarita is one of the world's most enduring cocktails, and it is still just as popular today as it was decades ago; it also has a rather endearing history – the story goes that the Margarita was formerly known as a Tequila Daisy, and was created by accident when a busy barman in Tijuana, Mexico grabbed a bottle of Tequila in error, while making a Daisy cocktail. The resulting mistake went down a treat and was soon the most popular drink in Tijuana. Margarita is the Spanish word for a daisy, and the rest, as they say, is history.
The Black Russian
Origin: Gustav Tops, Hotel Metropole, Brussels.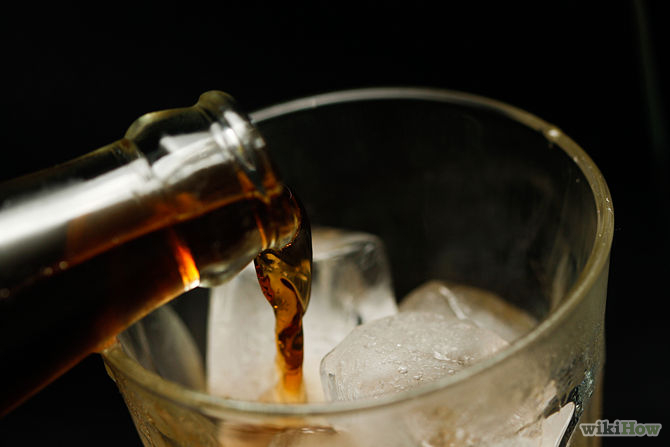 The Black Russian was invented as a signature drink for the American ambassador to Luxembourg in the 1940's, just as the Cold War was starting; a dark and mysterious cocktail that just smacks of espionage and intrigue! The name is quite deceptive as the only thing Russian is the Vodka. Expect 2 parts Vodka, 1 part Kahlua stirred over ice and poured into an old fashioned glass full of ice. Later, milk or cream were added to make a White Russian, and then someone added Baileys Irish Cream instead of milk and the Mudslide was born!
The Mohawk
Origin: Kenneth Gray, Lafitte, San Francisco.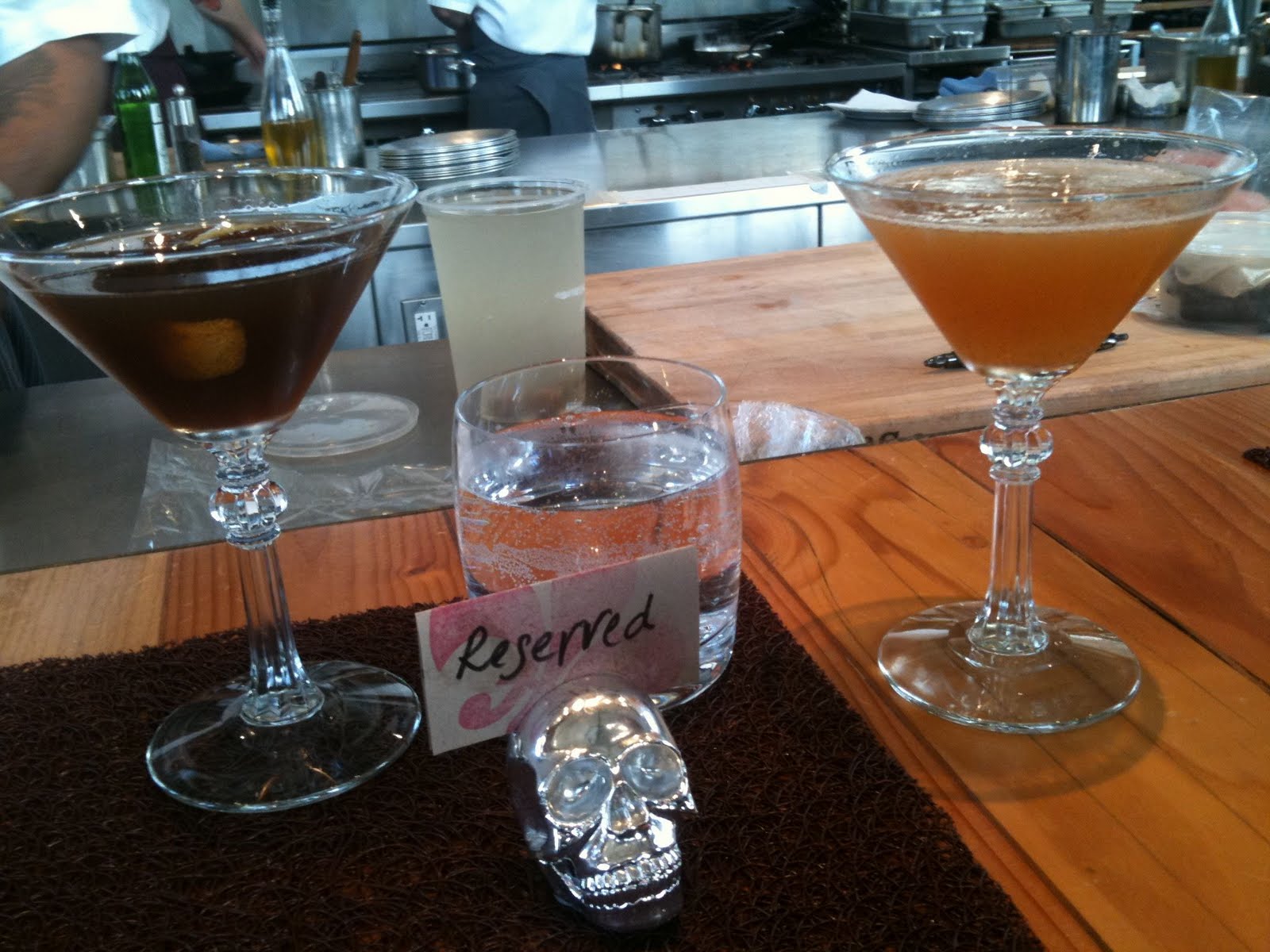 Since you are not allowed to smoke in bars these days, the Mohawk is a sneaky way to get a quick shot of nicotine without having to brave the elements. This most unusual cocktail is a heady blend of tobacco syrup (real whole leaf tobacco boiled with water and sugar to form a syrup), Rye Whiskey and a dash of Bonal Gentiane-Quina (a herb-infused aperitif wine), bitters and a lemon twist. Try it if you dare!
Double Truffle Martini
Origin: Duo in New York.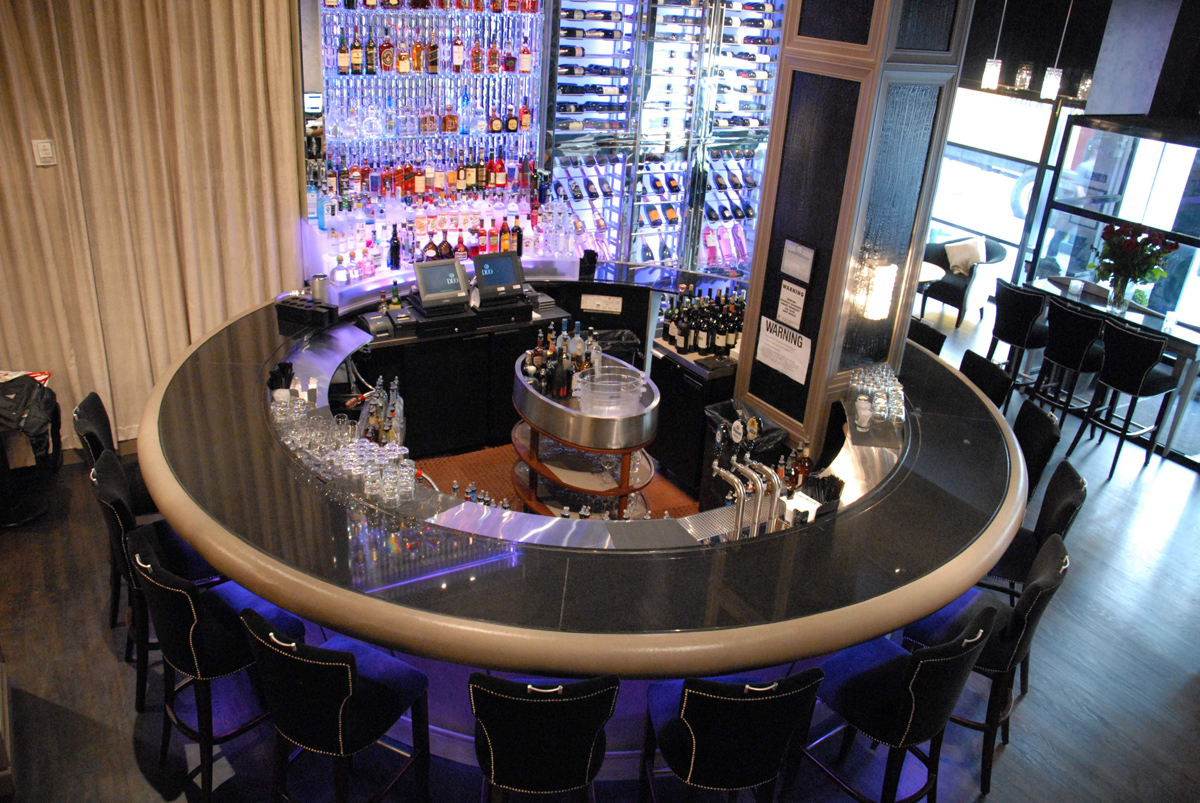 Heaven for truffle lovers – now you can drink your truffle as well as eat it! The basis for this rather different concoction is basically a Double Cross Vodka martini, to which the mixologist has cleverly added a good glug of truffle juice, before garnishing the drink with a truffle-stuffed olive. (This one is definitely shaken, not stirred!) I imagine it would pair beautifully with your favourite truffle pasta.
Meatequita
Origin: Shaka Zulu Bar, London.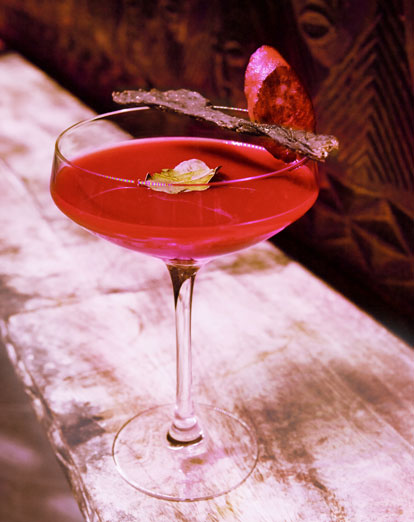 Daring and unusual, this cocktail is strictly for all the carnivores out there! It is an inspired blend of chorizo sausage-infused Tequila, vegetable juice, balsamic vinegar, smoked sea salt, pepper and Port, garnished with strips of chorizo and biltong. It's a bit like having Tapas in a glass! Try one at Shaka Zulu Bar, London.
Vanilla Chocolate Malt
Origin: Oxo Tower Bar, alongside the Thames in London.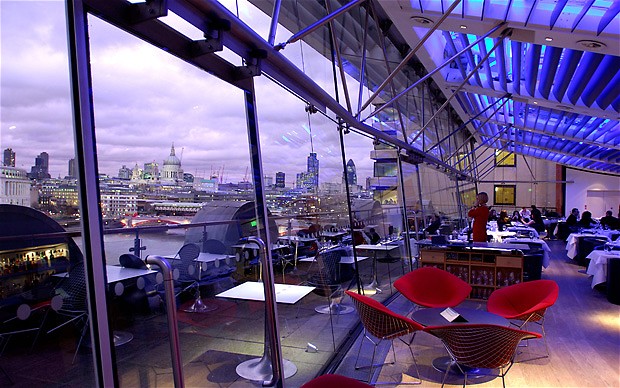 This fabulous and most unusual cocktail will take you straight back to the 50's style American soda fountains, if you are old enough to remember them! If not, don't worry, there really were some great things in the Good Old Days, and this is a new take on one of them, the classic chocolate malted milkshake. This one is strictly for adults though…it is a blend of Vanilla Vodka, almond milk, Mozart dry chocolate spirit and vanilla sugar and malted milk. It is craftily served in a mini-milk bottle with a jaunty straw!
Dropje Daiquiri
Origin: The Tippling Club, Singapore.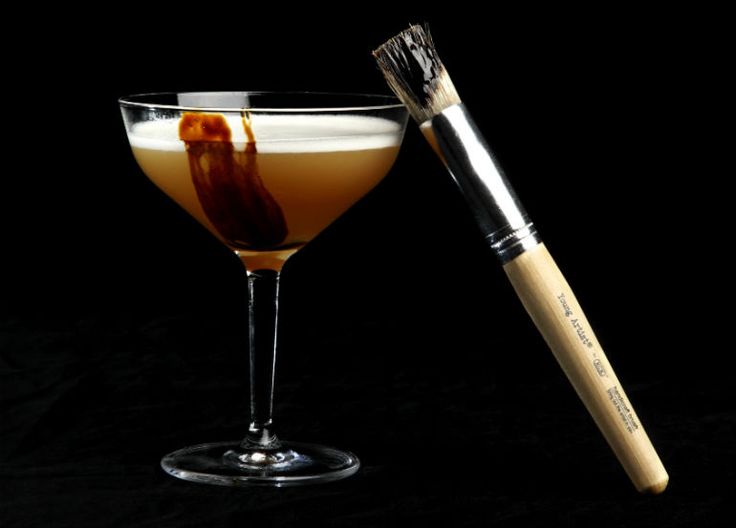 The Tippling Club in Singapore believes in pushing the envelope when it come to boozy innovation, which is why it is probably the coolest and most on-trend venue in that city. This cocktail is a dramatic remake of the classic daiquiri, but adds salted licorice from Holland to the mix of Venezuelan rum, orange curacao and citrus. For added drama (and taste) a thick line of licorice is painted inside the glass. Some may hate it, but the Dutch love it!
Royal Toast
Origin: The Langham, London, 2013.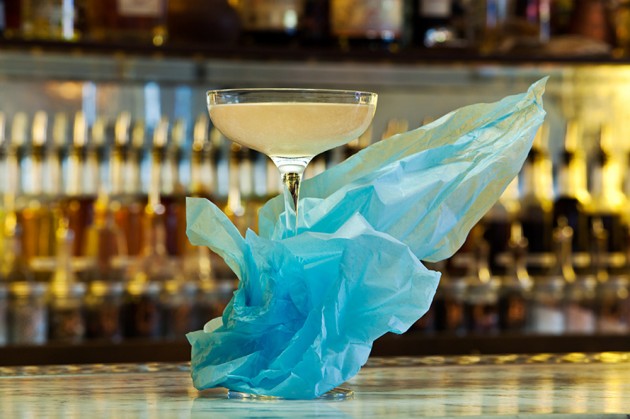 The Langham Hotel in London were really quick to capitalize on the hype surrounding the birth of the new heir to the British throne, Prince George. The newly invented "Royal Toast" features both unusual ingredients and a most novel presentation, all put together by the International Bartender of the Year, Alex Kratena. The aromatic cocktail combines tequila, cedar wood syrup, lemon juice and bitters with a beautiful blanc de blanc; served in a coupe glass ensconced in scented blue crepe paper.
Sourtoe Cocktail
Origin: Downtown Hotel, Dawson City, Yukon, Canada.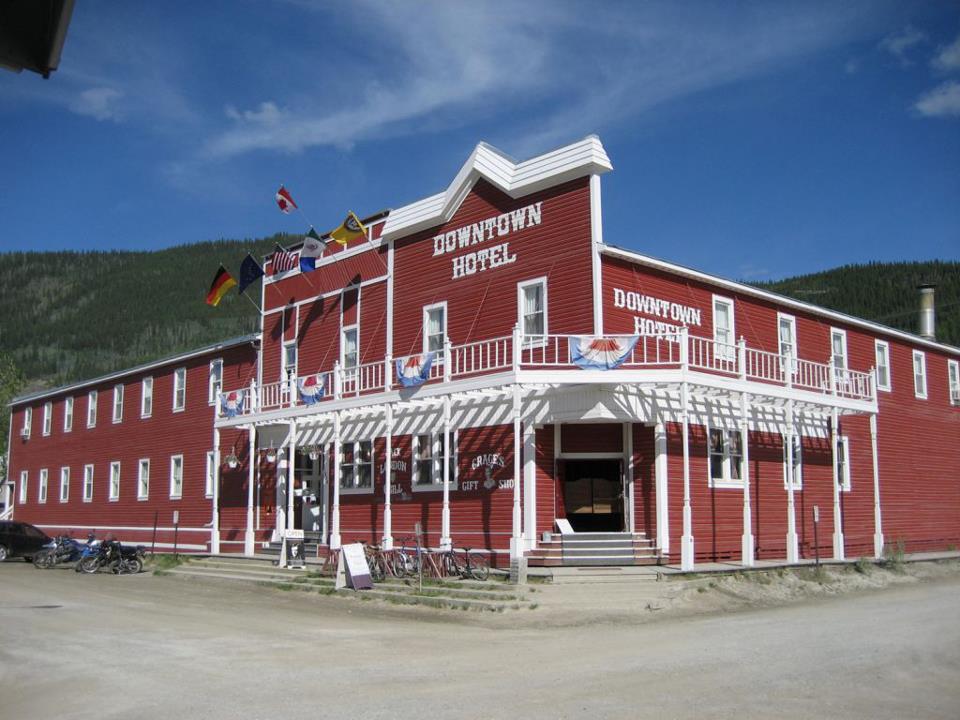 If you are squeamish about what you put in your mouth you should skip this one. This is probably the weirdest cocktail of all time and interestingly, any of your favourite tipples can be converted into the Sour Toe Cocktail by the simple addition of a real, preserved, amputated human toe! To join the Sour Toe Club you need to down the drink and make sure that the toe touches your lips…You are not intended to swallow the toe, which will go back into salt-storage, but recently one man did…and lived to tell the tale. Now they are looking for a new toe to pickle…
Doug Lamings' Margarita
Origin: The Rabbit Hole, Sydney, Australia.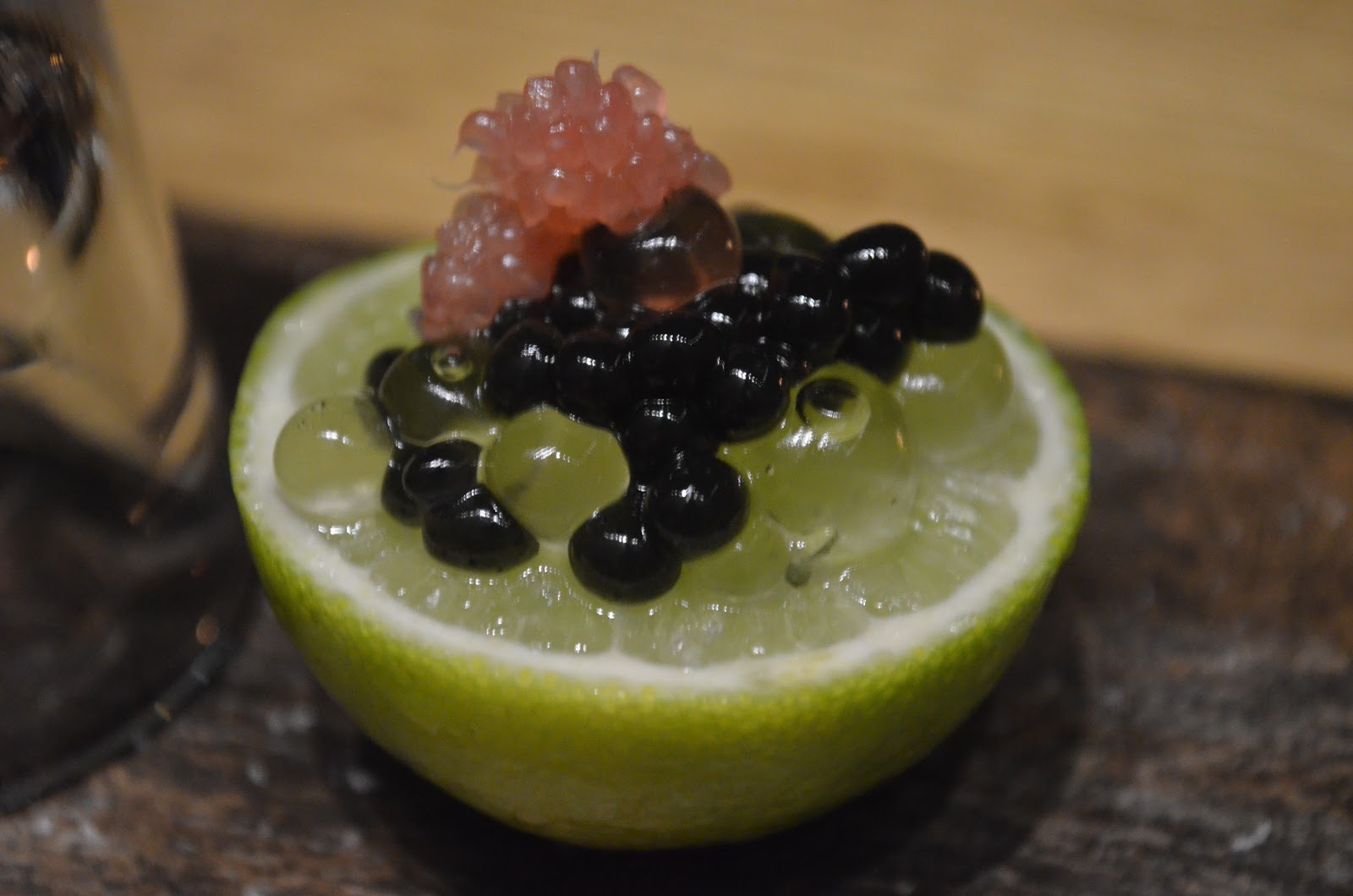 This Aussie take on the classic Margarita is a cocktail to be taken seriously! Firstly, you will not recognize it when it arrives and secondly, it tastes like no other Margarita in the world. The cocktail is made by using molecular mixology and a very special "Spherification Kit" to transform Cointreau into caviar like pearls that literally pop on your tongue. The "drink" is uniquely served on a half lemon, and is truly one of the most unusual cocktails I have come across; add it to your bucket-list.
The Gunpowder Plot
Origin: Zeta Bar, George St, Sydney.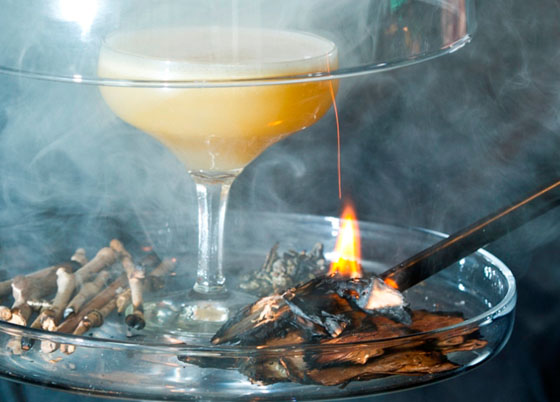 This one is also from Down Under where molecular mixology is the flavour of the day. It was invented by Grant Collins, who loves using liquid nitrogen, dry ice and jelly to WOW his customers. The cocktail is inspired by Guy Fawkes and is an ingenious mix of gin (infused with gunpowder flavours), Fernet Branca and egg white, shaken to produce a cocktail with a thick frothy head, which is then infused with smoke and served under a clear glass cloche amid smouldering twigs producing an oak-scented fog; totally unforgettable!
The Crapper
Origin: Rock & Rita's, Circus Circus Hotel, Las Vegas.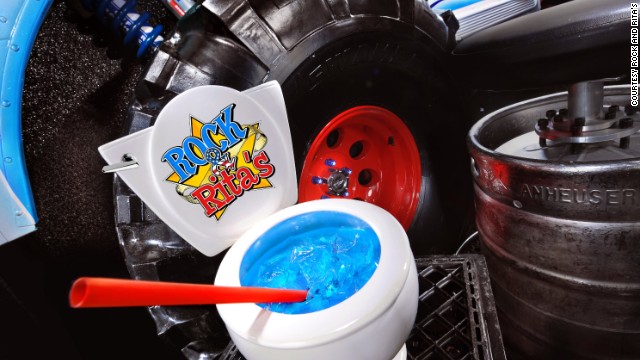 This is a rather low-brow cocktail hailing from Las Vegas where it gets many a stag party off to a roaring start. It is a calorie laden (good for lining the stomach guys!) mix based on chocolate Pina Colada, laced with a Snickers Bar and served in, yes, you may have guessed – a miniature toilet bowl! It's not for everyone, but perfectly acceptable in Las Vegas!
White Lady
Origins: The Savoy, London.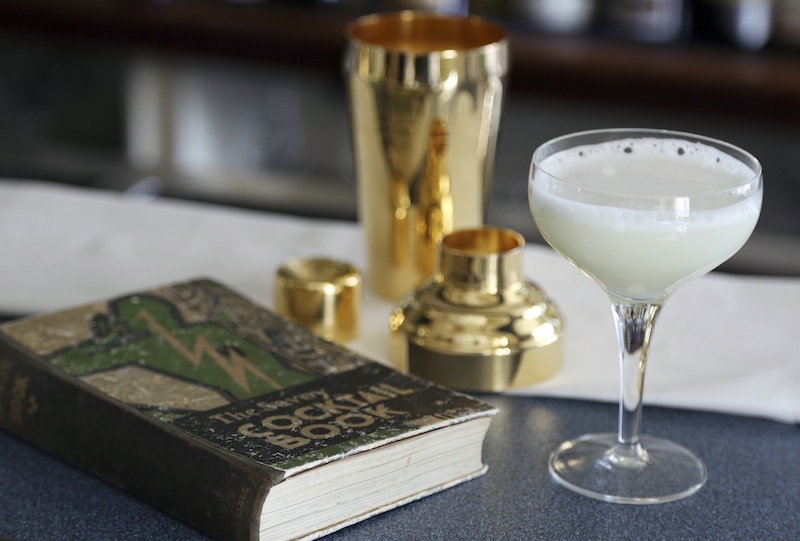 A White Lady started life as a rather sugary concoction made with far too much Cointreau, Crème de Menthe and lemon juice, back in the 1920's, when it was called a "Delilah". It was later refined by Harry Craddock of the Savoy, who exchanged the Crème de Menthe for gin, added some egg white for body and changed the name to White Lady: it was an instant hit. It has also been called a Chelsea Sidecar and a Lillian Forever.
The Mojito
Origins: Havana, Cuba.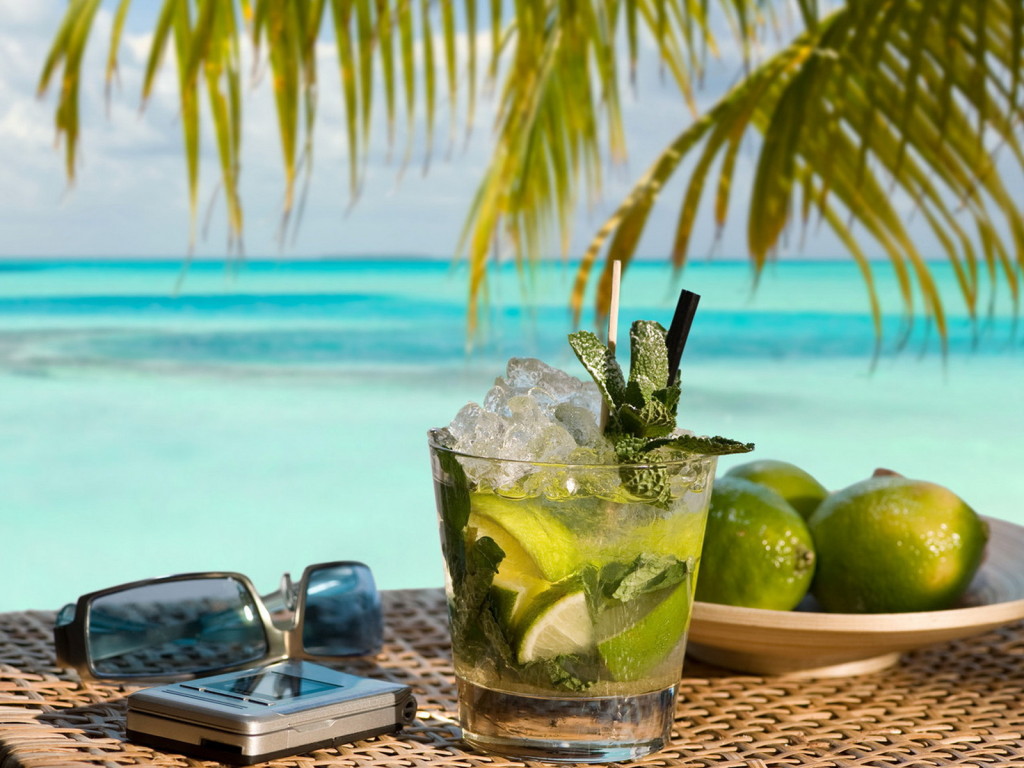 It's fair to bet that most people who enjoy quaffing down their summer Mojitos have no idea that this very popular cocktail has been around for centuries, and it is believed that its origins can be traced to a 16th century drink originally called "El Draque" which was invented in Havana in honour of Sir Francis Drake. The original Mojito was made with cane sugar juice and aguardiente, a fiery pre-cursor to rum which had to be modified with mint, lime and sugar to make it palatable. 'Mojo' is also an African word for magic, and the modern name could have come from African slaves in Cuba.
The Coquetier
Origin: Pret a Diner, Berlin.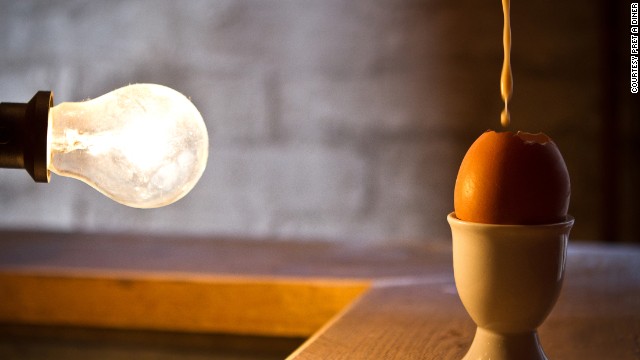 Antoine Amédée Peychaud was an 18th century Creole apothecary in New Orleans who became famous for toddies made of Cognac and bitters, which he dispensed in little egg cups. This cocktail eventually morphed into the Sazerac, the official cocktail of New Orleans. Today there are several versions of the Coquetier, but the most interesting one can be found in Berlin, where a blend of rum, chocolate and cinnamon are served in an eggshell.
Diamonds Are Forever
Origin: Skyview Bar, Burj Al Arab Hotel, Dubai.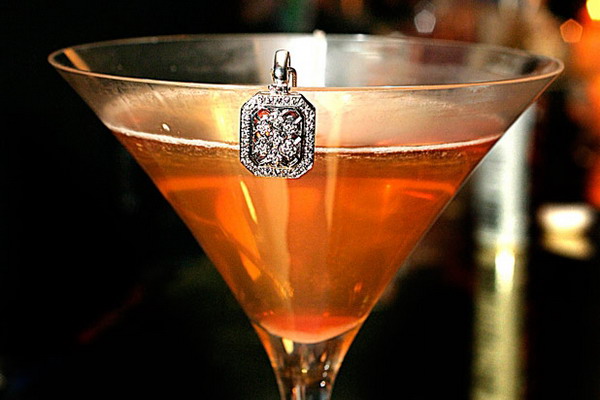 Probably the world's most expensive cocktail, the Diamonds are Forever flight of fantasy is only for the seriously wealthy. It contains only the best and most exclusive alcohol, including L'Heraud Grand Champagne Cognac, Luxor 24k Gold Flake Champagne and bitters, and is served in a Swarovsky Crystal glass with diamonds in the stem. Thank goodness, you do get to keep the glass as a souvenir! A bargain at $1,347.
Chocolate Bunny
Origin: Fairmount Pacific Rim, Vancouver, Canada.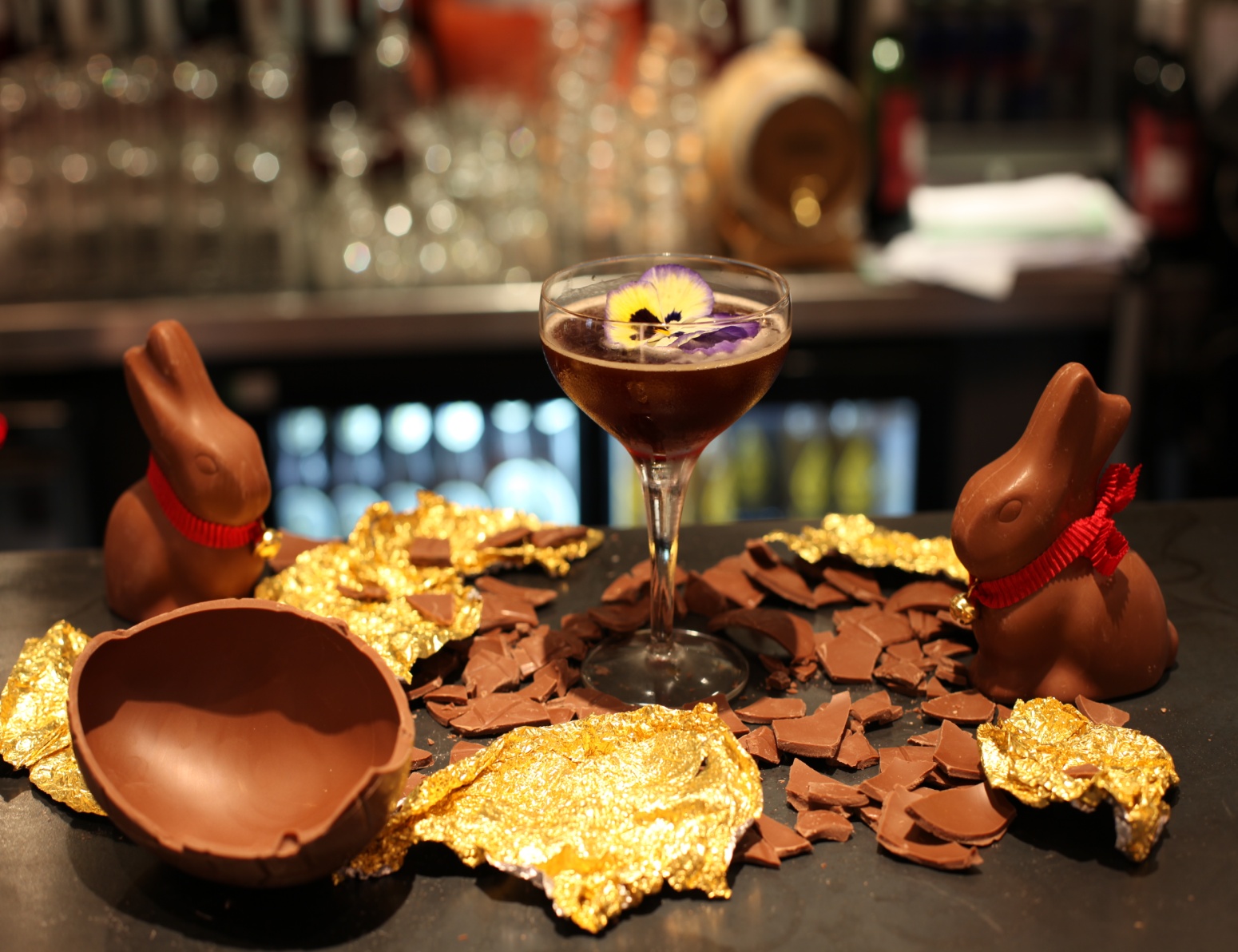 This is another great cocktail cum dessert cum coffee, for chocoholics who just cannot resist the chocolate/alcohol combination. This one is a heady blend of Van Gogh Espresso Vodka, Creme de Cacao, Galliano and a good shot of freshly brewed espresso, all shaken together with an egg white which produces a great foamy "head". It looks good and tastes even better, and its' easy for you to try at home – a great finale to that "come dine with me" dinner party!
Winston
Origin: Club 23, Melbourne, Australia.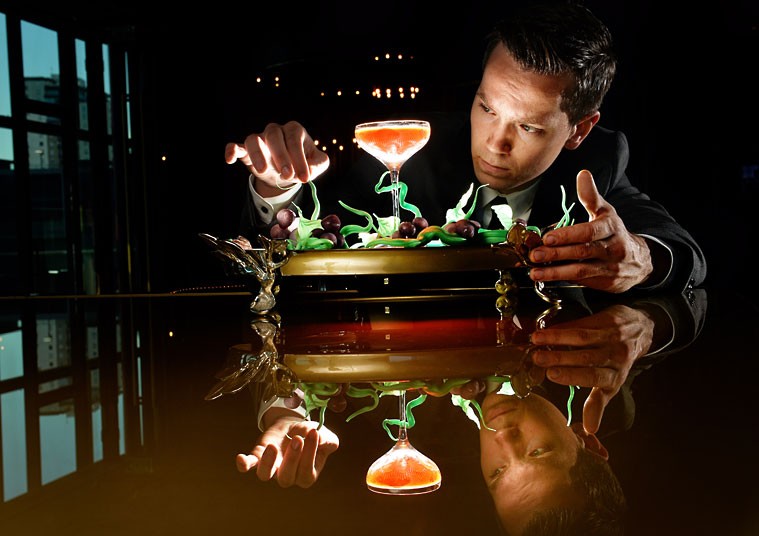 On 07/02/2013 Joel Hefferman set a new Guinness World Record for the most expensive cocktail ever, with this one dedicated to Winston Churchill. The ambrosial drink is made with cognac dating from 1858, as well as other rare and exceptional alcohols. It is then served with chocolate and nutmeg "soil" and garnished with pulled sugar made using the same precious alcohols. It is then misted with dry ice essence infused with citrus peel. If you fancy one, do phone ahead…it takes about 2 days to make. The price? A mere $12,000.
Salvatore's Legacy
Origin: Salvatore at Playboy, London.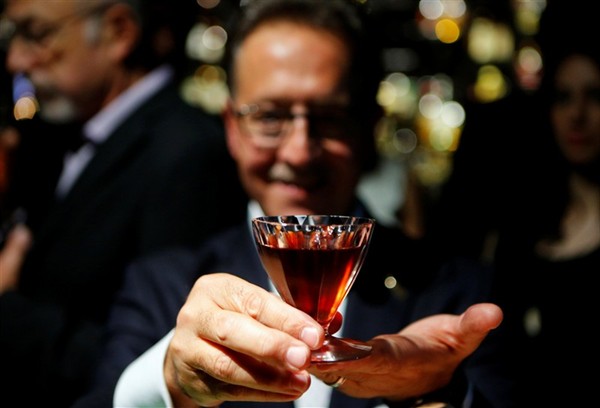 Before the Aussies notched up a world record for the most expensive cocktail this honour belonged to famous mixologist Salvatore Calabrese in London, and his Legacy cocktail still uses the oldest ingredients in the world, including Cognac from 1778, Kummel from 1770 and 2 other ingredients, none of which are younger than 100 years. Yes, it is completely over the top, but those millionaires have to spend their money on something! It costs about $8316.
More Tea Vicar
Origin: The Orphanage Cocktail Emporium, Bree St, Cape Town.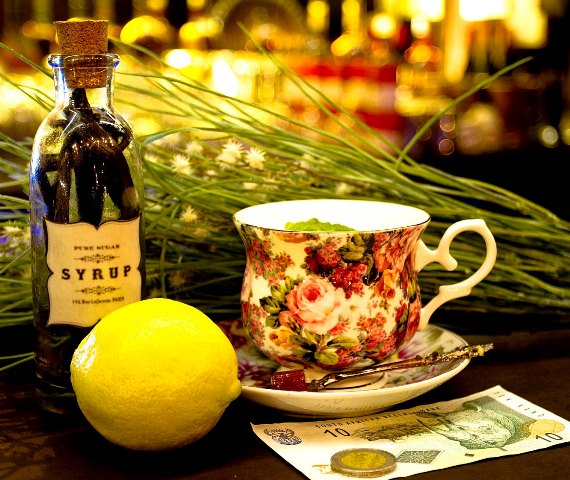 From Cape Town comes this interesting cocktail featuring Vanilla Finlandia, rooibos syrup, cranberry juice and lemon, all served up in a lovely vintage teacup. The Orphanage cocktail bar takes its' cheeky name from a real orphanage that was once housed in the church around the corner. If you order the More Tea Vicar cocktail, you will be pleased to know that a percentage of the price is donated to a real-life children's home in Cape Town. Have a few more…it's all for a good cause!